Current Promotions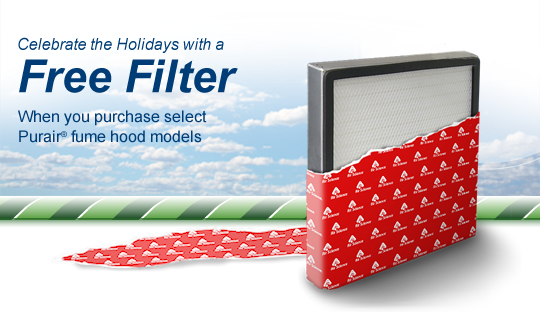 Special Offer Now Through January 31, 2013
For a limited time, purchase a Purair® Basic, Advanced, PCR or ECO fume hood and receive a free filter customized to your proposed application.
Mention the promotional code CLAUS during your order to take advantage of this holiday offer before January 31, 2013.*
The Purair® line of ductless fume hoods are a series of high efficiency products designed to protect the user and the environment from hazardous vapors generated on the work surface. At the heart of the Purair® fume hood product line is the innovative Air Science® Multiplex™ Filtration Technology that creates a safe work environment over the widest range of applications in the industry.

Advanced carbon filtration technology offers a safe, high performance alternative to conventional ducted fume hoods for a broad range of applications.
Environmental Benefits. Air Science® ductless fume hoods isolate and trap chemical vapors to prevent ecological impact through release into the environment.

Versatile. Carbon filters are available in more than 14 configurations for use with vapors or organic solvents, acids, mercury and formaldehyde. HEPA/ULPA filters can add to biological safety.

Easy to Install. The ductless fume hood is self-contained and does not require venting to the outside. Set-up, operation and filter maintenance are straightforward.

Energy Efficient. Because filtered air is returned to the room, no demands are required of the facility HVAC capacity for make-up air.

Cost Effective. Facility ductwork, HVAC and construction costs are eliminated.

Safe to Use. Cabinet airflow and face velocity protect users from incidental exposures to fumes.

Self testing. (selected models) Electronic airflow monitoring assures continuous safety. An electronic gas sensor monitors carbon filter performance.
For more visit the Purair® Basic, Advanced, PCR, and ECO online. For detailed literature on each model, click the links below.
* Note: Select models apply. Free filter offer only valid with a prepaid purchase of the Purair® Basic, Advanced, PCR, or ECO fume hoods prior to January 31, 2013.Only valid for mainland US sites. Regular shipping charges for filters will apply.